Federal Bank
Address

Edayanal Building, Kumarapuram, Kizhakkambalam




Pazhamthottam




Ernakulam

-

683565

IFSC code

FDRL0001312

Hours

Open until 03:30 PM

Tue

10:00 AM - 03:30 PM

Wed

10:00 AM - 03:30 PM

Thu

10:00 AM - 03:30 PM

Fri

10:00 AM - 03:30 PM

Sat

10:00 AM - 03:30 PM

Sun

Closed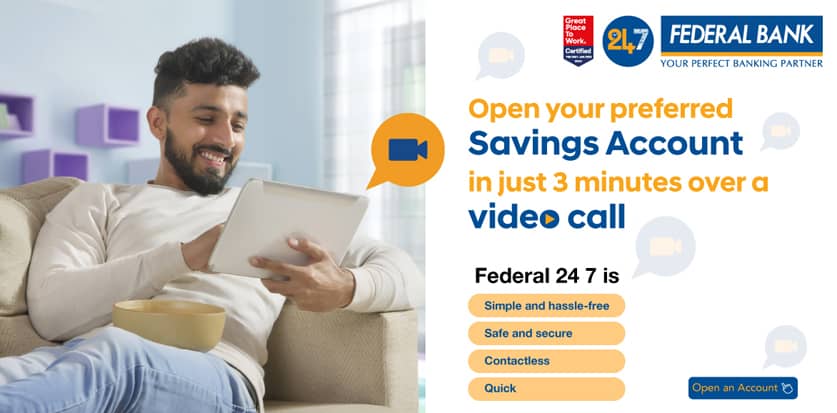 About Federal Bank
Federal Bank is a leading Indian private sector bank with a network of 1270+ branches and 1950+ ATMs/Recyclers spread across the country. The Bank offers a wide range of products and services to retail, small and medium enterprises (SMEs), agricultural and corporate customers through a variety of delivery channels. Federal Bank has Representative Offices at Dubai and Abu Dhabi which serve as convenient touch points for its Non-Resident Indian customers in the UAE. The Bank also has an IFSC Banking Unit (IBU) in Gujarat International Finance Tec-City (GIFT City). Federal Bank is transforming itself, keeping its principles intact, into an organization offering services of the highest quality. It has a well-defined vision for the future as a guidepost to its progress.

The Bank offers products and services such as Credit cards, Debit cards, Prepaid cards, Mobile Banking, Internet Banking, Online bill payment, Fee collection, Depository services, Transaction Banking Services, Merchant banking services, Insurance, Mutual fund products and many more as part of its strategy to position itself as a financial super market and to enhance customer convenience.
The address of this branches/ATMs is Edayanal Building, Kumarapuram, Kizhakkambalam, Pazhamthottam, Ernakulam, Kerala - 683565.
Tell us about your experience.
Scan this QR code to discover more with us.
Download QR
Click on QR code to enlarge.
Other Branches/ATMs of Federal Bank
Mon

10:00 AM - 03:30 PM

Tue

10:00 AM - 03:30 PM

Wed

10:00 AM - 03:30 PM

Thu

10:00 AM - 03:30 PM
Fri

10:00 AM - 03:30 PM

Sat

10:00 AM - 03:30 PM

Sun

Closed
Cash

Cheque

Credit Card

Debit Card

Master Card

Visa
Banks
Private Sector Bank
Financial Institutions
Savings Bank
ATM
Best NRI Banking
Quick Account Opening
Digital Savings Account
Best Mobile Banking
Best Internet Banking
Gold Loans
Apply for Credit Cards
Apply for Debit Cards
Send Money to India
Lowest gold loan interest rate
Lowest home loan interest rate
Open Demat account online
Open NRI account online
Best Zero Balance account
Instant Savings account
Car loan interest rate
Home loan interest rates
Credit Cards
Home Loan
Savings Account
Personal Loan
Gold Loan near me
Best Gold Loan
Demat Account
Car Loan
NRI Banking
Instant Digital Loans
Salary Accounts